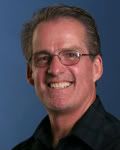 News is circulating now and people are just finding out what God already knew, that Pastor Ralph Arthur passed away this morning.
I've always viewed Pastor Ralph as the 'Church doctor.' He would always minister to us, the body, using scripture and love. Joy always emanated from within him and he never kept that joy to himself, he always gave selflessly.
Less than a year ago a tragedy struck our family. A close family friend had been admitted to the hospital suddenly; she was my mom's friend, my friend's mom (mine too) and my sister's friend's mom. She was a 2nd mom to me and the family requested that I try to get a Pastor from Harvest to come out immediately since she was in urgent care. At Day7 I tried to ask Pastor Steve if he could come, but he had a line a mile long. So I went to find another Pastor who could find someone who was available to visit the troubled family. Then I ran into Pastor Ralph coming up from the stage.
I asked him if he could have someone on staff come out the next day and meet with the family and minister to us. Pastor Ralph mentioned that he would try to get someone to come and mentioned he wouldn't be able to come because he had plans and was very busy that day. He asked me to email him the hospital/family info and I thanked him. He prayed for me and I left.
The next day at the hospital, the Pastor arrived. That Pastor was Ralph. He came anyways! I'm not sure what he did, but he came all the way to Upland to minister to the family and to me. It was such a blessing. I always thanked him and the Lord for coming to our aid when we needed it, at his own expense.
I know that many of you have stories of how Pastor Ralph was a blessing to you. I'd personally like to hear them, whether its a comment in this blog, your own blog or in person. Pastor Ralph lived so self-lessly and I can only Praise and Thank the Lord for his life and legacy.